Level I. Make-up Artist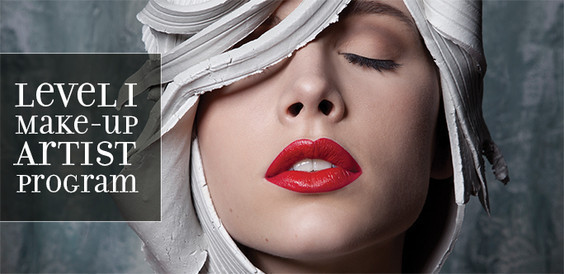 Our Level I. Make-up Artist class is the first step in realizing your dream to be a make-up artist. Beauty essentials provides the bases for your further development in the world of make-up artistry. After finishing the class you will be awarded with Level I certificate and MUD Level I card.
Beauty Essentials
Description: This course is designed as an introduction to beauty make-up with an emphasis on the techniques required today in this multi-faceted industry. Regardless of which of these areas you intend to work in, mastery of beauty make-up is a must. In this course you will start by learning facial analysis, base matching and application, correction, contours, and highlights – as well as a focus on eyes and lips. The course concludes with complete make-up applications ranging from one hundred percent corrective to natural make-up.
Hours: 84
Class fee: € 2500
Class kit: € 960
Foundation Module

Description: Students will focus on the techniques required to maintain a professional and sanitary working environment. In addition, the technique of choosing and properly applying foundation is taught.
Highlight & Shadow Module

Description: The foundation of all make-up, highlight and shadow are the key to correcting problem areas and truly making someone beautiful. In this module, we will discuss the basics of color correction and how to properly use highlight and shadow.
Eyes & Lips Module

Description: Just as the title says, we will be focusing on the two areas that allow for the most creative freedom. Before learning how to be creative with eyes and lips, you'll need to know how to be corrective and properly address each area. The focus of this module is layering eye shadow, eyeliner positions, lashes, brows, and color correction of lips.
Finishing Module

Description: This module completes the four modules that are the framework of "The Core Skills of Beauty Make-up." The focus is on creating complete make-up looks that enhance the overall beauty of an individual. This module draws upon the skills learned in prior modules in order to create a make-up application that corrects any issues while still achieving a natural look.